Archive for
December, 2011
Here's the video that accompanies the podcast of The Thom and Jeff show that I was on a few weeks ago! Remember to watch both parts!
Enjoy xo
Part 1
Part 2

Hey Guys
Just a quick blog to wish all my members & fans a Happy Xmas and a fantastic New Year!! Thank you to everyone that has shown me their support this year, especially through the harder periods and to everyone that has spoiled me as well, I really do appreciate it.
Don't forget to check out the photos and video from my Xmas set, on my site and on my Facebook page!! Also check out the awesome Xmas Wallpaper that I've posted below made for me by @itsfuckingporn.
Whatever plans you have for the holidays I hope that you all enjoy yourselves as much as possible.
See you in 2012!!!
Bri xo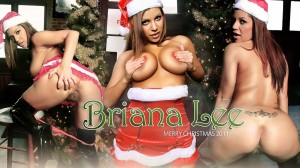 Hey Guys
So I'm super excited….On Wednesday 14th December I'll be appearing on the Thom and Jeff Show which is an adult chat show, kinda like Howard Stern!! They used to be on 1057 the point but now they have their own show!! They are known for being direct and to the point and don't pull any punches so I can guarantee you it's going to be entertaining!!! Haha!!
Anyone can listen in as well as once the show is over the podcast is straight away uploaded to their site and you can download it instantly, wherever you are in the world.
Go check out their website http://thethomandjeffshow.com where you can download previous shows which will show you what to expect from the show I'm going to be on!!
There will also be a video of me in the studio as well which will also be available to download!! Don't miss it guys it's gonna be lots of fun!!!!
Update: Download the podcast here now!!!!
I've also been shooting some new EXTREMELY hot pictures and videos for my site over the past few days. I'll post a quick preview for you all soon, for now though here's some of the recent hot Twitter pictures I've posted!!
Enjoy! Bri xo